Kangaroos ( 2-3 yrs )
The Kangaroo room caters for a maximum of 15 children each day and has 4 educators.
In the Kangaroo Room, we aim for each child to have a sense of belonging and feel safe, secure and supported in the room.
A stimulating indoor and outdoor environment is provided to extend on the children's needs, strengths and interests.  This rich learning environment fosters confident learning skills and supports their curiosity and creativity.  We have permanent areas in the room for creative play such as playdough, and dramatic play such as a home corner.  We also sing lots of songs, play games and read books every day.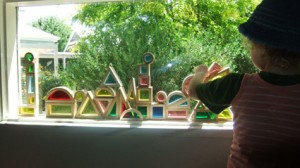 Each day there is something new to discover and learn about, individually and as a group.  We provide support for the children's developing independence and opportunities for decision making.