Programs
All our programs, in both services, are based on the principles outlined in the Early Years Learning Framework (EYLF), which is a national guide developed from the latest studies in how children learn and develop.
Activities are based on children's interests and educators provide support, resources and direction so that each child is able to expand their skills and knowledge.
Blanket Excursions
We endeavour to create an engaging and responsive program for children of all ages. With a particular focus this year being on Quality area 6 'Collaborative partnerships with families and communities', we have been looking at ways in which we can continue to build and nurture existing partnerships within the community. In order to improve our procedures surrounding excursions at Castlemaine Child Care Co-operative, we have developed a blanket excursion consent form, which will ask parents/guardians to sign. This means that families will not be required to sign a consent form for individual excursions that take place within the highlighted zone. Families will continue to be notified of all pre-planned excursions that their child will be participating in, however, some excursions will be spontaneous to support an emergent curriculum. Any excursions that are planned outside of the highlighted zone will still require an individual consent form, be signed.
Blanket Excursion forms and information 2016
Bush Kinder
An important aspect of our program involves supporting children to gain a deeper awareness and healthy respect for our precious natural spaces within our community. The Early Years Framework states that in order for children to become socially responsible citizens and show respect for the environment, they must have opportunities to develop an awareness of the impact of human activity on environments and the interdependence of living things (EYLF, 2009).
In the images shown,  we see the children exploring and investigating an area of native bushland beside Campbells Creek.
When children first encounter the bush program we often notice some typical themes carrying over from conversations and play scenarios that take place back at the centre. These conversations and play scenarios are perfectly appropriate and demonstrate the way in which children make connections between different contexts and draw on past experiences when faced with new and challenging situations. Over time as the bush becomes familiar to them, we expect to see deeper level thinking and investigations into the ecosystems that are present, we will notice children questioning what they discover and wanting to know more. This is an exciting aspect of our program and one that we feel certain will leave a lasting impact on the children who experience it.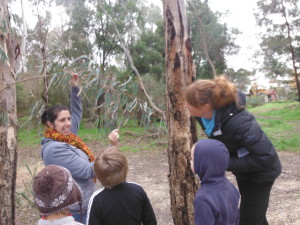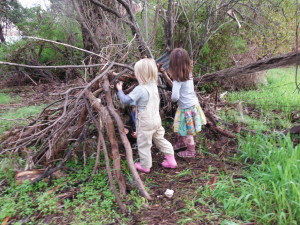 Connecting with the community to build upon children's existing knowledge is a vital aspect of our bush program. Our local Koori Engagement Support Officer (KESO) Kerri taught the children how to identify Manna which is a deposit left on a leaf and traditionally this was eaten as a sweet treat. The pictures above show the children identifying Manna and having the chance to taste some too! The children learnt how to make and interpret animal tracks for Kangaroo, Dingo and Snakes. Kerri spoke about how Aboriginals used these symbols to send messages to one another and share stories about the dreaming.
These unique experiences within our bush program help children to begin to shape their own sense of identity. (EYLF Outcome 1 – Developing a strong sense of identity). By supporting the children to gain a broader perspective of the Indigenous Australians who walked these areas before us and ways in which they lived on and used the land, we are deepening children's awareness of what it means to belong to a place, a culture and a community.
In the images shown above, we see the children exploring and investigating an area of native bushland in Kalimna Park. The Teachers interactions during these excursions are one of a collaborative partnerships e.g. we encourage children to explore, investigate and observe those aspects of the environment that capture their interests and in their own time.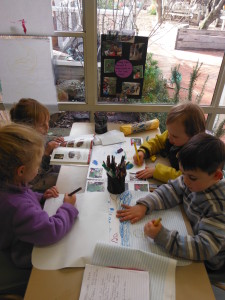 From here the children use the floor book to engage in group reflections and consider what it was that made the deepest impact upon them, from here we make plans to investigate these subjects in greater detail.
Claire Warden (2012) suggests that when children have opportunities to engage with open-ended resources in visually simple spaces for sustained periods of time, they develop the ability to "vocalise and reflect, to inspire, to problem solve and to think outside the box" (p. 8) These skills are important in order for children to see themselves as collaborative learners where they have opportunities to teach each other, assess potential risks, exchange ideas and opinions and engage in group accountability. Development of these skills is vital if children are to participate effectively in group learning situations and more formalised education contexts such as school.
On another occasion, we invited two local mushroom and moss experts from Friends of the Box-Ironbark Forest (FOBIF), Bernard Slattery and Naomi Raftery. The children learnt how certain species of fungus will partner with specific tree species. The mushroom that we often see appearing above the ground is supported by an extensive network of fungus beneath the ground and it is the mushroom that acts as the 'fruit' of the fungus, popping up above the ground to regenerate and source nutrients and water to feed the thriving fungus below the ground.