Kookaburra Kitchen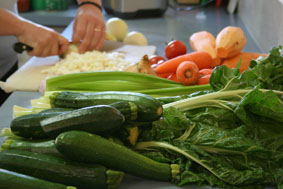 We provide a nutritious hot lunch, prepared daily on site by our cook, as well as healthy snacks for morning and afternoon tea.
Our menu is mostly vegetarian made from fresh ingredients locally sourced where possible, for instance, bread from a local bakery and fruit and vegetables grown in the area.  We aim to ensure that all meals are healthy and offer children a diverse range of interesting foods based on flavour, taste and texture.  We promote and encourage positive eating habits – staff sit down with the children and share food and conversation.
The kitchen is audited by the Council Health Department and also by an independent auditor.  We have also completed all the requirements for the Start Right Eat Right program, demonstrating that our menu supplies 50% of a child's daily nutritional requirement.
We have several children with food allergies, intolerances and in the most severe cases, anaphylaxis.  We work with families to determine each child's needs and to develop a nutrition plan that ensures a balanced diet while keeping the child safe.
Anaphylaxis:  As peanuts, in particular, are one of the major triggers for anaphylaxis our centre has a nut free policy.  We ask parents not to bring any nut-based foods or snacks into the centre and to wash children's hands if they have eaten nuts shortly before arrival.
Spicy Tomato and Lentil Soup. An Autumn favourite. 
Ingredients
1 Brown Onion – finely chopped
1 clove of garlic – finely chopped
1 tbs Cummin powder
1 tbsp Coriander powder
half a tsp Chilli powder
1 tbs mustard seeds
1 jar of Tomato paste
1 tbs Beef stock powder
400ml can of Red lentils
Celery – finely chopped
2 small sweet potatoes
2 carrots – finely chopped
1 cup frozen peas
2 small zucchini – finely chopped
pinch of fresh coriander – finely chopped
enough water to cover ingredients
Method:
Fry onions, stock powder and all spices in oil until soft.
Add vegetables (except for peas) and sweat until softer. You may need to add water.
Add and water, bring to the boil.
Add lentils and simmer until soft. (watch bottom of the pot as contents can stick)
Just before serving stir in chopped coriander.
Serve with grated cheese on the side.